Providing Assistance at the Border
Reflection by Sister Maura McCarthy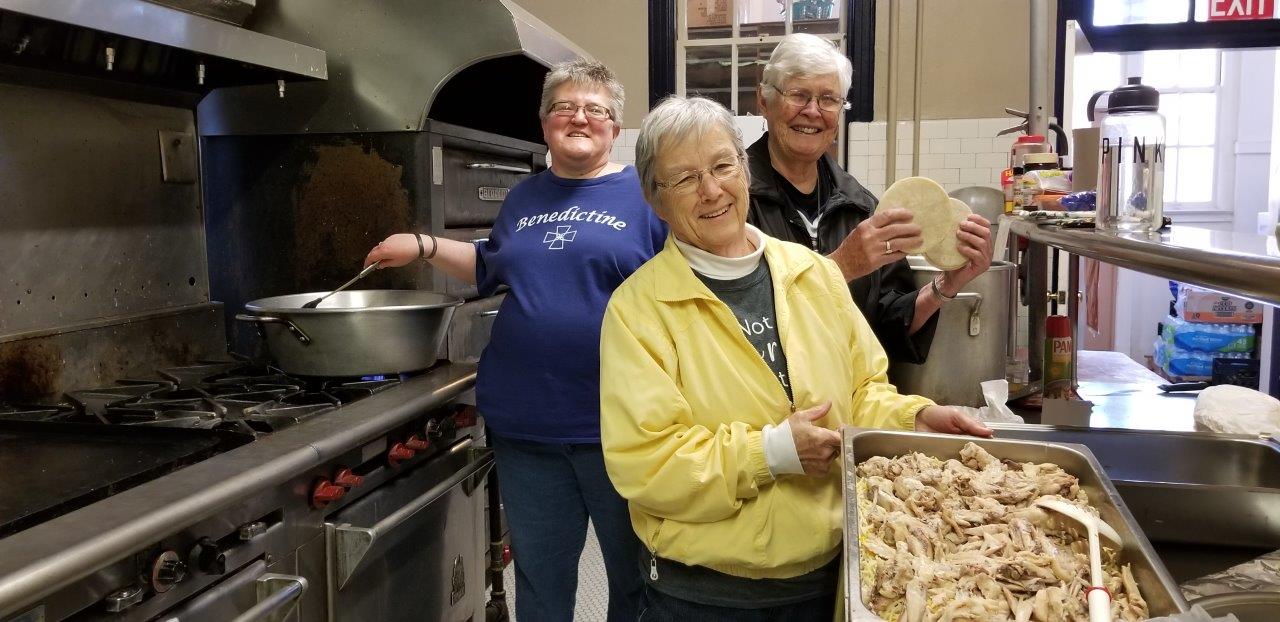 The city of El Paso has struck us as being the city of "a thousand welcomes." It seems to be overwhelmingly a Latin city. One store clerk said that 95 percent of the inhabitants are bilingual. Most of the persons that we meet in church or in the stores look so beautifully Latin.
Our neighbors from the South are arriving from Guatemala, El Salvador and Honduras to the city of El Paso, Texas, "the passage" to the North. They are turning themselves over to Immigration and Customs Enforcement (ICE) seeking asylum. Their experience in the ICE facilities is not always so positive. One man from Honduras spoke of being treated like animals.
There are over 2,000 persons a week being released from the ICE facilities in El Paso to be reunited with family all over the United States previous to their "court date." It is absolutely essential that centers of hospitality like those sponsored by Annunciation House, Nazareth House and several other welcome hostels provide shelter, food and facilitation of bus and plane tickets provided by family members.
Our presence came about when the Leadership Conference of Women Religious (LCWR) received an urgent request for economic help and for volunteers to give hands-on ministry to the immigrants in these hospitality centers. The Sisters of the Presentation from Dubuque and Aberdeen along with the Yankton Benedictines responded by sending Sisters Maura McCarthy (Dubuque), Myra Remily (Aberdeen) and Clarice Korger on December 6, to El Paso, Texas. These three became a volunteer team at Nazareth House, one of the several immigrant hospitality centers sponsored by Annunciation House in El Paso. The sisters live at the former Loretto Sisters Convent, part of which is a center of social services for the city of El Paso.
The volunteer sisters who live in the Loretto Convent have come from all over the United States. Several are seniors and one sister humorously remarked that she would like to write a book about the "over 80" group of volunteers. Most are bilingual, but several are not. The volunteers provide services such as recording basic information when the immigrants arrive, assigning rooms and providing bedding, making phone calls to the families, distributing clothing, packing lunches for those traveling, providing basic medicines, cooking and serving meals, driving immigrants to the airport or bus station as well as being a welcoming presence.
For nearly three days, Sisters Myra, Maura and Clarice were asked to prepare breakfast, dinner and supper for the immigrants. This was in response to a pressing and dire need. All were grateful that Sister Myra had some past experience in food service management for large numbers of persons. Sister Clarice was a practicing LPN before becoming a Benedictine. This skill was frequently needed by persons suffering from colds or upset stomachs.
The volunteer endeavor is a rich interchange with the courageous and risk-taking immigrants from Central America; an opportunity to share mission with many volunteers from El Paso; and an invitation to share community with religious sisters from all over the United States. Sisters Myra and Maura are especially enjoying being in mission together after a hiatus of some 12 years. The insightful and entertaining sharing of happenings with sister volunteers in the evenings is a rich and bonding experience.
Sister Maura will be volunteering until January 1. Other Dubuque Presentation Sisters are responding to these unmet needs in various locations. We are grateful for their willingness and commitment to serve when and where needed most.