Celebrating 75 Years of Religious Life

Sister Mary Lois Lehmann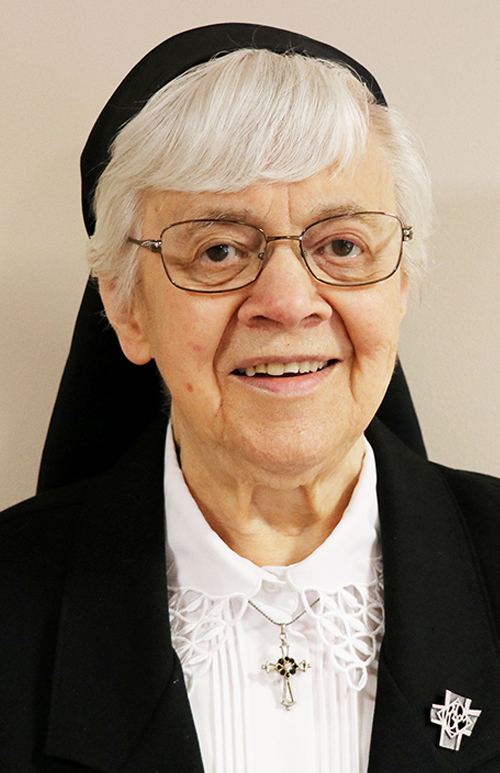 This year, Sister Mary Lois Lehmann celebrates her 75th jubilee, remembering God's love and faithfulness with gratitude for a life of service as a Sister of the Presentation. Originally from Worthington, Iowa, Sister Lois is the daughter of the late Anton and Frances (Honkomp) Lehmann. She entered the Sisters of the Presentation on September 8, 1944, from St. Joseph Parish in Farley, Iowa, and professed final vows in 1950.
In a 61-year journey of carrying Presentation foundress, Nano Nagle's lantern in full-time ministry, Sister Lois walked many steps to spread the Good News spending 43 years as an elementary teacher and 18 years as a pastoral minister. "Like Nano I traveled many roads to serve God's people in 12 Catholic schools and parishes in Iowa, South Dakota and Illinois. Teaching gave me a love for each child; I rejoiced at each one's progress."
Sister Lois assisted with Catholic liturgical preparation, music, religious education and bereavement for grieving families at wakes and funerals among the Catholic parishes of Dayton, Ogden and Boone, Iowa. She was recognized for outstanding involvement, service and her ecumenical presence.
Today, Sister Lois is happily engaged in community prayer and service with a deep appreciation that she has been able to walk with others. "I was able to be a visible presence of Christ and the Church, to bring the consolation of prayer to the dying and to minister to people of all faiths. To offer hospitality was always my goal – in sorrows, pain and joys," she states as she continues walking her journey.
At this time in her life, Sister Lois feels that she continues to make a difference for others. "Although my ministry is more limited, I am still able to encourage, affirm and be an example of faithfulness to prayer and to my vocation as a follower of Nano and keep her lantern burning brightly," she states. "And I know that I continue sharing Nano's charism."
Reflecting on 75 years of religious life, Sister Lois says, "I am grateful for my faith, family and Presentation community. I have a deep gratitude for the many people with whom I journeyed over the years. I pray that I helped spread the Gospel message by sowing seeds of love, joy, hospitality, generosity and peace."
Send a note of congratulations.
Send an honor online.