News & Events
We hope you will explore this area of our web site to read the latest news about our sisters and their ministries, and to learn more about a variety of upcoming events. For more information on any of these news or events, contact Jane Buse, Director of Communications, at 563.588.2008 or info@dubuquepresentations.org.
2018 Associate Commitments
May 6, 2018

May 2018 Commitments
On May 6, 2018, four new associates were welcomed into the Presentation Associate Partnership. Thalia Cutsforth, Jen Hayes, Judy Kalb and Carol Wyatt gathered with Sister Rosalyn Ulfers and Associate Cindy Pfiffner for the past six months to pray, study and reflect on Nano Nagle, Presentation heritage, charism and mission. They are certainly women of service who have a willingness to offer their gifts for the benefit of others.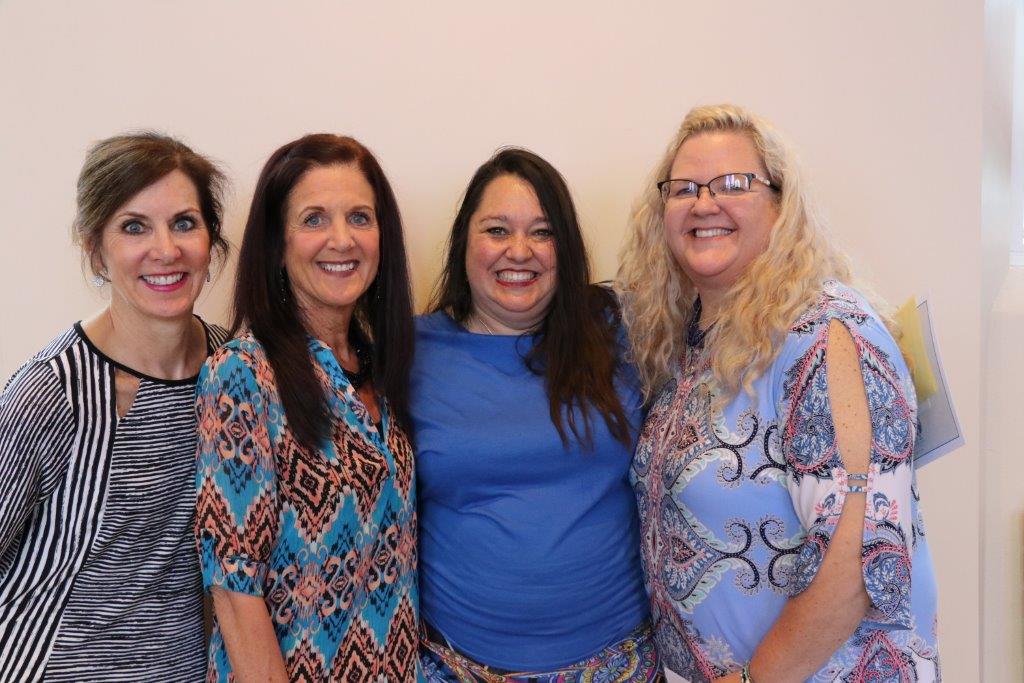 Thalia has been married to her husband, Tony, for 22 years and has three children. She works part-time at Sadlier Publishing and is a member of St. Columbkille Parish where she cantors and helps with various parish activities. She is active in the Holy Spirit Pastorate CEW, and she and her husband are leaders of The Choice Wine group which supports married couples' efforts to strengthen their marriage. Thalia shares, "As an associate, I hope to continue to serve the community and help others. If we all walk together, one step at a time, we can make our world a beautiful place."
Jen and her husband, Brian, have two sons. She works as a benefits specialist for the Archdiocese of Dubuque. After completing the RCIA process, Jen joined the church in 2007 and quickly grew in her faith by becoming very active in her parish. She serves on the Parish Life committee, the CEW team and has been on the Pastoral Council for the past six years at Holy Spirit Parish. Jen states, "I find the greatest joy in helping others. By becoming a Presentation associate, I am excited to see other ways I can help others and continue this journey."
Judy also lives in Dubuque and has been married to her husband, Mike for 32 years. She works at Great River Oral Surgery as a dental assistant. Judy has volunteered at the Mercy Gift Shop for 23 years, has been active with the Holy Spirit CEW and is a Eucharistic minister at St. Columbkille Parish. Judy enjoys spending time with family and friends, walking, traveling and yoga. Judy says, "I feel God has called me to become a Presentation associate. I have the desire to serve and to share my gifts with others, while at the same time growing and deepening my own faith. I enjoy being with the sisters and sharing in living out the dream of Nano Nagle."
Carol and her husband, Clifford, have been married for 29 years and have two daughters. Carol works as a receptionist at Prairie Farms Dairy and is a member of St. Columbkille Parish where she is also a Eucharistic minister. She is active in CEW and has been part of the Resources Unite Christmas gift give away. She serves meals at St. Patrick Parish and has assisted with two benefits for coworkers with cancer. Carol reflects, "In the time that I went through the associate orientation process, I have been so impressed and inspired and have experienced such love and hospitality that it makes me want to be a better Christian. I want to give back, and I look forward to getting to know the Presentation Sisters and associates and to giving myself in whatever capacity that is asked of me."
January 2018 Commitments
On January 24, Sue Brimmer (right) and Sarah Gieseke (left) became the newest Presentation associates during their Commitment Ceremony. They have spent the past months with sister and associate mentors studying and reflecting on Presentation Foundress Nano Nagle and the Presentation mission.
Sue and Sarah expressed their desire to share in the Presentation mission in this way. Sue reflects, "I am requesting to assist with the sisters' mission as an advocate for those with little or no options. I've always had a desire to serve others, especially those most vulnerable. I also have a passion to assist with health screening, education on wellness and assisting with meeting peoples' physical, emotional, and spiritual needs."
Sarah shares, "I experienced such welcoming openness and above all, presence from the sisters when I first visited here over two years ago. Because, as sisters, you offer this presence to others, listening to their needs and the uncertainties they face in life and in turn, respond with God's light and love in real terms, I wish to be affiliated with you, sisters, and you with me."
We welcome Sue and Sarah! May their lives be enriched through their participation in the Presentation Associate Partnership.