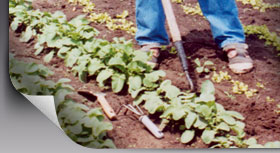 Green Activities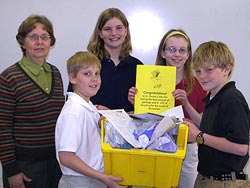 There is a story growing inside each of us...
Every day Presentation sisters and associates engage with a cosmic-size story gestating mystery. In exploring this story, we find that we are growing inside the story. This impacts our spirituality on a daily basis.
This, too, happens within the story of our foundress, Nano Nagle, and within the larger Universe Story. Daily we are awed by the "greening of relationship." In the ever-unfolding story of human, plant and animal specifies of Earth.
As we explore our relationships with plants and soil, with people and animals, we liberate ourselves and others to be authentic, to be free to realize potential and talent, to be unique expressions of God on Earth. We are called to be with people, to hear their stories, and to call forth from people this freeing potential already within them, to co-create a sustainable and just society for all.
The Earth Charter
In 2003, as a congregation committed to sustainable living, we formally endorsed the The Earth Charter and its initiative. This initiative is a product of a decade-long, worldwide, cross-cultural dialogue on common goals and shared values.
The Earth Charter is a declaration of fundamental ethical principles for building a just, sustainable and peaceful global society in the 21st century. It seeks to inspire in all people a new sense of global interdependence and shared responsibility for the well-being of the whole human family, the greater community of life and future generations.
Between 2007 and 2008, The Earth Charter Initiative (ECI) implemented the development of education materials designed specifically for religious audiences. In early 2009, as part of the ECI decentralization strategy, a Task Force on Religion, Spirituality and Ethics was formed. This task force engages a broad range of individuals, institutions and organizations concerned with religion, spirituality, ethics, to use The Earth Charter in an effort to create a just, peaceful and sustainable future for the Earth community.
"We are called to collaborate with God in continuing the task of creation, to exercise stewardship of our own lives and the unfinished world. We are God's guests, invited to make the most of divine hospitality and to mediate it to one another and to the rest of creation." - Monika K. Hellwig, Guests of God
"Real change begins with the simple act of people talking about what they care about."
Margaret Wheatley, Turning to One Another