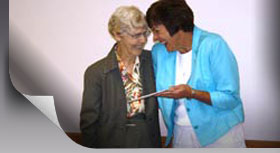 Nano Nagle College Scholarship
In the spirit of Presentation foundress, Nano Nagle, the Dubuque Presentation sisters and associates initiate a $500 Nano Nagle College Scholarship to further her legacy of education. Nano Nagle was a young Irish woman who spent her days teaching those who would have otherwise been deprived of an education and her evenings were spent walking through the streets of Cork, Ireland bringing food and medicine, comfort and hope to those in need. Nano Nagle was a WOMAN of SERVICE. Her life reflected her own words, "If I could be of service in any part of the world, I would gladly do all in my power to do so."
Today the Sisters of the Presentation follow in Nano's footsteps by serving in education, pastoral ministry, chaplaincy and advocacy for the disadvantaged and those made poor throughout the United States and Bolivia.
This scholarship rotates among the many high schools in which Presentation sisters have ministered. In 2010, the scholarhip was awarded to a student at Wahlert High School, Dubuque Iowa; 2011 to a student at Garrigan High School in Algona, IA; and 2012 to a student at Newman High School in Mason City, Iowa. This year's $500 Nano Nagle Scholarship will be awarded to a deserving senior from St. Mary High School in Storm Lake, Iowa, who plans to further his or her education.
The Nano Nagle College Scholarship is awarded to a student who models self-giving service helping to improve the lives of others and meets the following criteria:
uses his or her God-given talents for the betterment of others
exemplifies exceptional service
needs financial assistance
satisfactorily completes the application and provides two letters of recommendation
Interested students complete the application form by April 1, 2014.
Announcement is made by May 1.