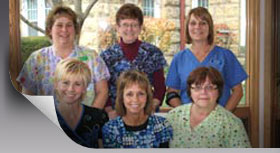 Employment
Sisters of the Presentation recruit full-time and part-time positions throughout the year.
Liturgy & Music Coordinator
This person is primarily responsible for coordinating the liturgical celebrations for the sisters residing at Mt. Loretto, the Motherhouse. Preferred applicant will possess education and experience in Catholic Liturgical Studies and/or Music. Proficiency in piano and/or organ required. Benefits included. Full job description. Deadline to apply: June 14, 2013
Please submit a resume with cover letter, references and salary requirements to:
Human Resources Department
2360 Carter Road
Dubuque, IA 52001
info@dubuquepresentations.org
Dietary Aide /Dishwasher
Part-time with 10 Hrs/Week with Nights & Weekends
Deadline to apply: May 20
PRN/CNA
Part-time, all shifts available
Deadline to apply: May 20
CNA
Part-time, 3rd shift (10 pm - 6 am)
Deadline to apply: May 20
Application Form
To apply, please fill out the following application form.