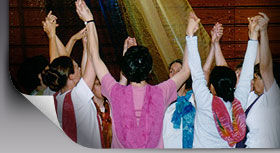 Ways to Connect
Come connect with others through prayer, social, reflection and service opportunities.
Plate & Prayer
Arrange to enjoy evening prayer and dinner with Presentation sisters, come individually or as a small group. Contact Sister Rita Cameron to schedule.
Prayer Partners
Participate as a prayer partner with a Presentation sister or associate by e-mail, in person or a combination of both. This opportunity to connect with a sister or associate may feed your spiritual growth and prayer. Both participants decide what works best for their schedules to develop and maintain this prayer partnership. Contact Sister Rita Cameron to learn more.
A Day of Retreat
Adult women are invited to participate in day-long retreat for spiritual and personal growth and discussion on a variety of topics. These retreats are offered regularly throughout the year or may be scheduled for a group by special arrangement. Contact Sister Rita Cameron to learn more.
Presentation Quest
Explore a deeper understanding of God while serving the needs of today. Through Presentation Quest, varied opportunities for service and immersion are provided to empower us toward action. Contact Sister Rita Cameron to learn more.
Presentation Associate Partnership
If you desire to strengthen your commitment to gospel values and deepen your prayer life or welcome opportunities for friendship, faith sharing, spiritual growth, service and hospitality, consider becoming an associate. Together, sisters and associates companion in prayer and partner in mission. They work collaboratively to live out the Presentation spirit of presence, hospitality, and compassion for those in need, and demonstrate respect for all people. Contact the Associate Partnership Office to learn more.