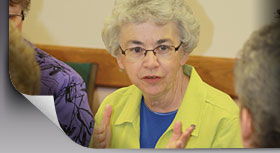 Leadership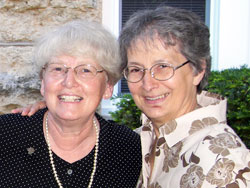 In a spirit of service, the elected community leadership team promotes the goals of the congregation and facilitates continual renewal, to assist members in responding to societal needs.
The leadership team is responsible for listening to, interpreting and guiding the life of the congregation. In administering to the congregation, the team provides spiritual and material support and corporately witness to the Presentation ministries.
The leadership team is elected every four years, with the next election set for 2012.

Email:
Sister Jennifer
Congregational Leader: Sister Jennifer Rausch
A heart anointed with wonder, Sister Jennifer, congregational leader, utilizes her junior high and high school teaching background in science and religion to form her philosophy of life. She seeks balance: of head and heart, of action and contemplation, of learning and life, of earth and the realm of the spiritual. The dance of the cosmos brings her to the encounter of "star-stuff" birthed in ancient galaxies with the flesh and bone of daily humanness. Her pleasant manner graces her personal encounters and a positive attitude lightens her concerns.

Email:
Sister Marge
First Councilor: Sister Marge Healy
The gift of being a Presentation sister has taken Sister Marge from teaching math in high school to attempting to learn the Mayan K'iche' language in Guatemala. In the farming communities of both Bolivia and Guatemala her heart and mind were opened by people who taught her the meaning of hope and faithfulness in the midst of the most challenging life circumstances. Sister Marge offers hope in the midst of struggle through her involvement with the Presentation Conference, International Presentation Association, and Association of Presentation of Latin America.

Email:
Sister Leanne
Second Councilor: Sister Leanne Welch
Sister Leanne has served as a teacher, principal, curriculum director and superintendent of Catholic schools. While in leadership, she continues to teach courses as an adjunct instructor at Loras College. With a fabulous background of knowledge through academic degrees and wide educational experiences, Sister Leanne shines in any learning situation. Even beyond education, there isn't much this life-long learner can't do. Gifted in many areas, she, likewise, shares herself in her concern for the poor. Her services are appreciated at the Dubuque Rescue Mission and her humor is enjoyed on the home front.

Email:
Sister Beth
Third Councilor: Sister Beth Driscoll
Sister Beth is a woman of multiple connections; relationships are her gift. Daily conversation with God makes firm her primary connection. She serves the community in leadership with a gentle spirit and a listening heart. Her three years of loving service to the post-Katrina-people of New Orleans provided a bond of extraordinary blessings. "From the bench," Sister Beth, a gifted musician, through the power of music enriches community liturgies just as she did the lives of her students. In creative and varied ways, she keeps in touch; her friends are ongoing beneficiaries.