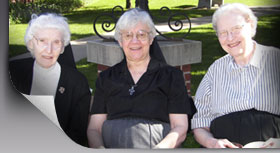 Our Life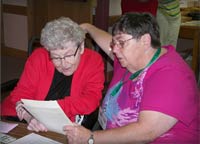 Upholding the dignity of all creation, we commit ourselves to empowering others. Recognizing that each person's call reflects particular circumstances, we are challenged to address unmet needs of others, and to work for systemic change relative to these needs.
Incarnating the hospitality of God, we respectfully share vision and dream, value and belief, prayer and ritual, both in sorrow and celebration.
In mutual love and friendship, kindness and reverence for one another, loyalty, and supportive encouragement in ministry, we find and live community.
Guests of God's hospitality, we reverence all creation as gift. We strive to ground our decisions and actions, both individual and communal, mindful of the fragility of Earth.
Take down your lantern from its niche and go out!
You may not rest in firelight certainties
Secure from drifting fog of doubt and fear.
You may not build yourself confining walls
And say: "Thus far, and thus, and thus far shall I walk,
And these things I shall do, and nothing more."
Go out! For need calls loudly in the winding lanes
And you must seek Christ there.
Your pilgrim heart
Shall urge still one pace beyond,
And love shall be your lantern flame.
(Raphael Consedine PBVM, 1977)