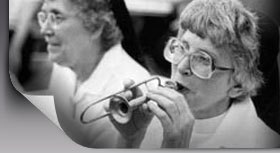 Our Heritage
The religious community that would become the Sisters of the Presentation of the Blessed Virgin Mary was founded in Cork, Ireland, by Honora "Nano" Nagle, on Christmas Eve, 1775.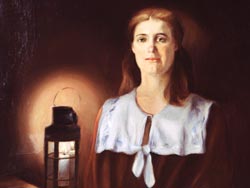 In a 1769 letter to a friend, Nano Nagle wrote:
"If I could be of any service in saving souls in any part of the globe, I would willingly do all in my power." Visiting the sick, comforting the sorrowing, educating children in the hedgerows, Nano's omnipresence and service in the winding lanes quickly became know as The Lady of the Lantern. The light of her legacy calls us one pace beyond.
While Nano's example inspired several other founders of religious orders in Ireland, her sisters established additional religious foundations not only in Ireland, but also in several countries around the world.
The Dubuque Presentation foundation was established in 1874 when Mother Vincent Hennessy left the Presentation convent in Mooncoin, Ireland, with three young women, to teach the immigrant children of Iowa.
Mother Vincent inspired others to live out the Presentation motto, Caritas (charity). Despite challenging beginnings, the Dubuque Presentation community flourished.
Today, Dubuque Presentations are involved in educational and pastoral ministries and service. Sisters minister in urban and rural areas in the United States, and in O'Connor Province of Tarija, Bolivia.
Worldwide, over 2000 Presentation sisters and numerous associates work in 23 countries and network globally through the International Presentation Association.
To learn more about our Heritage: