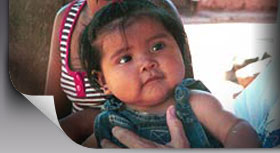 Socially Responsible Stewardship
The Sisters of the Presentation, in the spirit of Nano and in a spirit of collaboration, steward human and fiscal resources in service to the common good. This stewardship drives our mission and ministry. We fund Presentation sisters and others engaged in our mission. We support a variety of projects and organizations.

Ministry Fund
The Ministry Fund of the Sisters of the Presentation of Dubuque, IA exists to continue our mission of serving the poor and oppressed, especially women and children. Sisters and associates may apply for funding of projects and causes aligned with the Presentation mission. This fund is also used to support a sister who, in her wisdom years, wishes to continue serving our mission through active ministry that provides little or no income.
Partners

for the

Common Good
The Sisters of the Presentation partner with other mission-focused lenders and investors to provide access to capital for low-income people and communities. As a socially responsible investor and with the assistance of Partners for the Common Good, we channel funds into organizations working to serve communities excluded from the economic mainstream. Partners for the Common Good lends money to non-profit organizations and for-profit, mission-driven organizations that promote affordable housing, neighborhood revitalization, entrepreneurship and healthy communities in the United States and abroad.
Mercy Housing
Presentation sisters invest with Mercy Housing, a national non-profit organization working to build a more humane world through the alleviation of poverty and the building of healthy communities and individuals. It partners with a community and makes a long-term commitment, resulting in positive, measurable outcomes for residents and neighborhoods. It also serves as a catalyst, bringing together resources and talent in ways that are changing the face of affordable housing.
World Vision
In the spirit of their foundress Nano Nagle, Sisters of the Presentation seek to respond to the needs of the world. Through membership in national and international organizations they add support to the endeavors of others to make a world of justice and peace. They collaborate with other congregations of women religious in the sponsorship of area educational events and projects to enable all to widen our horizons and to grow in right relationships.
Sponsored Ministries
The Sisters of the Presentation initiated and subsidize four specific ministry sites. We have ministered in Bolivia since 1970 evangelizing, catechizing and providing training which empowers Bolivians to improve their lives. A second ministry, Presentation Lantern Center in Dubuque, IA, offers hospitality, education and resources to immigrants. Thirdly, Presentation Quest, an immersion and service program, provides opportunity to learn about the root causes of poverty and the need for earth sustainability. Finally, La Luz Hispana creates a spirit of hospitality where Hispanic people can share and build up their strengths, where social isolation is not a barrier, and where hope and a sense of possibility is stimulated, situated in downtown Hampton, Iowa.
Collaborative Ministries
The Sisters of the Presentation are part of the Collaborative Ministry Project (CMP) initiated by the Conference of Presentation Sisters in 2005. Lantern Light, Inc., a non-profit corporation directed by the sisters in New Orleans, LA, was created to respond to the needs of people made poor. Daily lunch, financial, legal, medical and housing assistance are offered. We also collaborate with area congregations of women religious in supporting Opening Doors in Dubuque, IA. Opening Doors serves women and children by providing emergency housing (Teresa Shelter) and transitional housing along with skill development (Maria House).